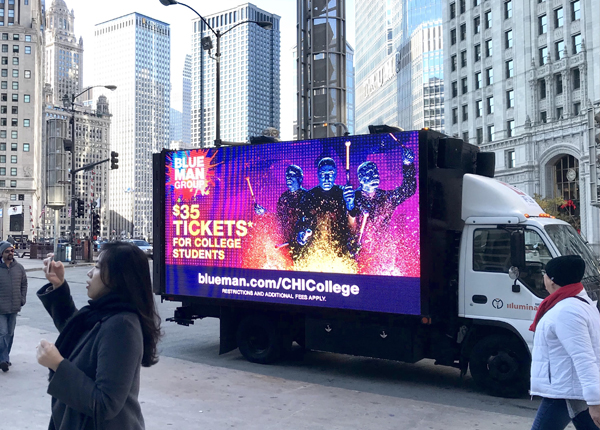 Benefits For You!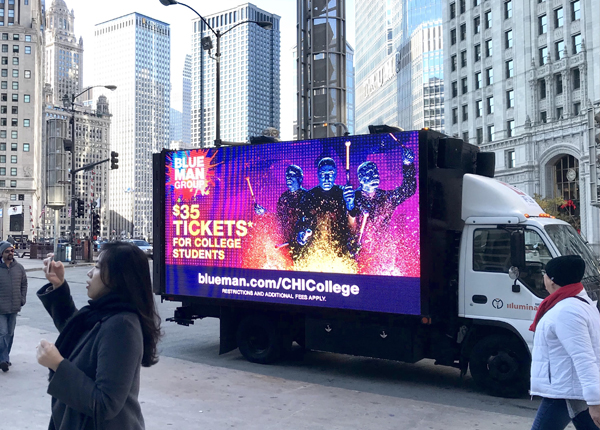 By now you are convinced how impactful and useful a mobile LED truck can be. We offer a unique solution of effective advertising for any type or size of businesses. Imagine yourself watching a commercial on TV at home. Now imagine yourself driving to the store or mall and seeing a giant, glowing, LED display sporting some kind of smart advertisement. Which one is going to stick out in your head? Which one will you actually remember? Of course it's the exciting, impossible-to-ignore LED display that came to you. It is probably something you and millions of other people have never seen before, and what better way to turn heads than something we haven't seen before?
Location
Billboard truck advertising offers unparalleled benefits that produce top shelf results. You'll quickly realize that mobile billboard advertising offers the best bang for your marketing dollar. Mobile billboard advertising is inexpensive (per impression) and is the most effective advertising available. Here are some of the best reasons to put your billboard on a mobile ad truck:
Readiness: Using our mobile billboard trucks allows you to take your message and reach people and areas that you might not have been able to previously tell your story to. This also offers a more affordable way of outside advertising that would be much more expensive if you advertised directly in a venue, arena or location. Billboard truck advertising allows savvy advertisers a means to target hyperlocal  communities with a location-specific approach that may not be available otherwise. Based on availability sometimes we can have truck in market on the same day!  How's that for efficiency and speed to market! Call us today at 312-924-7979 or email us at info@illuminatedMobile.com.
Mobility: Our specially designed trucks take your message mobile. To do this, your message will be locally broadcast to anyone nearby and is impossible to miss with huge, visually stimulating displays. The truck will run based on a schedule that you request, with special emphasis placed on ensuring we encounter the most traffic as possible. More traffic means more eyes on your display! There isn't a better time than when traffic comes to a halt to have your beautifully displayed ad in front of thousands of eyes.
Let's Get The Truck Wheels Rolling Today!
We're optimistic that by now, you think billboard truck advertising is a market winner, a driver to increase your sales, an unique, effective, and just downright awesome and we do too! Dazzlingly displaying your message to as many people as possible is our number one goal. To make that happen, we are proud to offer a different approach to advertising, something that's unquestionably impactful, flashy and engaging speaking directly to your new and best prospects.
It doesn't matter if you have a simple jpeg image, or a full blown windows media file video, or multiple ads to rotate, we can make it you a category leader so come along for the ride and let the followers follow. A mobile billboard advertising campaign is a secret weapon and let us give you quality results that you deserve at an affordable price!
Make your business rise above the stragglers and get quality results, give us a call today at 312-924-7979 and see how we can help you grow your sales! For any other questions or comments, please call or fill out our contact form located here.